May 14th, 2017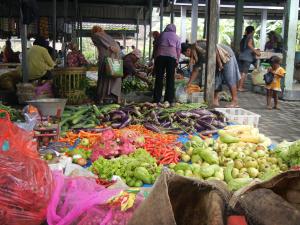 I was in Cold Stone Creamery in Leavenworth waiting in line to order something creamy and gooey and cake batter flavored. In walks a 6'5" large middle aged man who procedes to try to inch his way infront of me and cull me out of the line altogether! Well, I may be only 5'5" but I have super sharp elbows that hit that perfect soft spot below his last rib. I did my best warrior stance with elbow jabbed precisely in that ticklish spot and looked straight up into his face with my best evil eye that clearly said, "Go ahead punk, make my day..." He looked down at me with a surprised but stern eyebrow raised and then laughed in resignation at the small warrior lady about to throw down for her rightful spot in the line for ice cream. He gave me my space, continuing to snicker, and I felt like the universe had shifted back into alignment. We've often been there at Fred Meyer's with the lady impatiently running us over with her cart, or the hungry guy in the buffet line at Godfather's Pizza. Who the heck do these people think they are!

The line culture in Indonesia taught me to see deeper into values, systems, and beliefs that I wasn't even aware of. People often cut in front of you a centimeter at a time in the bus or grocery line or they may just elbow their way around. Super sassy little old Indonesia ladies were usually the culprits in my experience, silently scootching their way around and in front of you, elbowing and shoving carts or baskets into you all the time pretending they don't see you, that you don't exist, and never making eye contact.

A Dutch friend I met in Malaysia said she and her friend used to play a game by walking slightly faster and faster toward nothing in particular as the people around would try to keep pace to get "there" first (though no one really new where "there" was). The game was to see if they could make it to the point everyone was running. She said it worked a lot which tells me that being first and making sure you don't miss out is super important in places that have more people than resources.

In learning about the "line" culture in Indonesia, I went through 4 distinct stages of adaptation. At first, I said nothing when people would shove in front of me. In my confusion and misunderstanding, I built up a mountain of resentment that would be ready and waiting to get bigger and more poisonous every time I entered the grocery store.

The 2nd stage was fighting for my spot in line and defending my dearly held ideals of an orderly line and fair turn taking. I would curtly say, "I believe I am next" or "There is a LINE!" feeling no better because I had presented myself as an overly harsh foreigner to the smiling passive aggressive Indonesian standard (You shouldn't actually directly call people out because that's too forward and not gentle enough).

At stage 3 I began giving cuts but still a bit spitefully. I attempted to embrace a passive aggressive version of generosity. This was against all of my American training to become a woman who refuses to be walked on or run over. Even the phrase "passive aggressive" has negative connotations for me. I began giving up my place in line to those who were trying to sneak around me. At first, this too was in a spirit of frustration and meant to passively point out the grave injustice that they were inflicting upon me by adding 3 minutes to my grocery shopping. I really struggled with the question, "Does this make me a doormat?" Was I giving up on the work I had done on standing up for myself and creating healthy boundaries with people?

I morphed into stage 4 after making stage 3 a forced habit. My attitude began to evolve further into a sincere effort to let go of my own pride and sense of entitlement to MY rightful place in line.
People are in a hurry.
People are frustrated.
People are angry.
Whatever their reason for being pushy, I am grateful that (for the moment) I am not feeling that way. So...why not bring some cheer to someone who is already having a frustrating day?

In saying, "Monggo" (after you) with a sincere smile and an attempt at understanding the other person, I felt peace. I was not a being doormat. I decided that it wasn't a battle that I wanted to fight with anger and self righteousness. My goal became caring about and loving others. When people feel cared about, they either love you back (or they just think you are weird and suspicious which if good for a healthy sense of humility as well).

MY right to MY spot in line was a battle that I had been brainwashed to defend to the death (or at least first blood) since kindergarten. I realized that it's not always the battle I want to choose. I choose instead to embrace a healthy sense of humility and a slower pace of life and to welcome others to go before me (unless there is Cold Stone ice cream involved).


*Disclaimer: When I am 80 the "wisdom" of my youth will seem foolish and there will definitely be some big eye rolling at my younger self. Feel free to roll your eyes now if you are farther down the path of wisdom and enlightenment than I am. Love and cheers, friends!
November 1st, 2015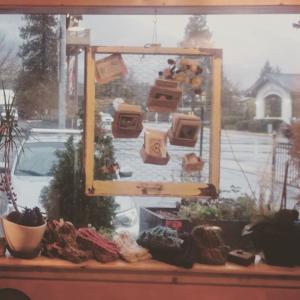 Dear Friends,

Thanks so much for your interest in my art adventures. For November, my art has moved to Good Mood Food in Leavenworth, located at 285 HWY 2 Leavenworth, just across from Krystal's restaurant.
www.goodmoodfoodcafe.com.
Their hours of operation are 7a.m. to 4p.m. I recommend the falafel. Look around the café for my riotously, colorful, chunky, crocheted hats (there are way too many brown and gray hats around here), photos, handmade greeting cards, and even a couple of my paintings.

Join my email list for a $5 discount this month!

I also have some handmade greeting cards on display at Lone Pine Café in Orondo near BeeBe Bridge. They are open from 7a.m to 6p.m for the winter. Look for the little white picket fence on the shelf in the middle of the store. It's just across from their awesome apple pie moonshine. Oh yum!!! Lone Pine was featured in Rachael Ray Everyday magazine for their amazing homemade "entire pound" cherry pie a la mode. Grab some of their recipes at: Lone Pine Fruit and Espresson.

Upcoming this winter, I will be giving a presetation about my experience with the Peace Corps in Indonesia at Wenatchee Valley College Omak Campus. I will let you know when the date is set.

That's all for now. I hope you all had a lovely Halloween weekend and remembered to set your clocks back.

Love,
Jamie J
March 31st, 2015
March Blog Post:
You can follow my blog at photosbyjamiej.blogspot.com for email updates on my monthly posts about my Peace Corps service in Indonesia.
March 30th, 2015
Here is the link to my February photo blog about my Peace Corps service in Indonesia. No words... just pictures. Thanks so much for sharing in my adventures.
November 9th, 2013
I don't understand what the thing against soliciting votes is all about. I actually don't do it myself but appreciate those who do, as it attracts other people to all of our artwork. Often when they go to vote for a friend, they may find themselves browsing through the work of others in the contest as well. Just something to think about for the "just for fun" contests as it could help us all promote our work. Who really cares who wins? Let those with a large fan group share the exposure! Thanks for listening to my rant.
Cheers all!
June 28th, 2012
I had a dream Wednesday night after a really bad day. (Working with children can be heartbreaking, sad, frustrating, and feel hopeless on occasion. Thank God they are wonderful)! God was telling me to open a door. Any door! "Time to quit piddling around and get on it!" I woke up feeling excited, purposeful and ready to tackle something crazy. I decided to go for something, you know, like I was being encouraged to jump off a huge cliff into the ocean; fun and terrifying all at once.
I had been working on my photographs for 2 years; framing, analyzing, fixing, etc. I put on my lucky art dress (all patchwork with crazy buttons I sewed up the sleeves and an open back...ooo la la), I went upstairs, threw my 7 framed photos in a box and took them to Lemolo to see if they would be interested in putting me on the wall.
Zeb is picky and not afraid to tell you what's what. I expected, "These are nice but not for us or here's what you need to do to fix them." Zeb comes out to the car to take a look and I freak out rambling about how my phlox from Plain and the ones from Ghana look the same, blah blah blah. Zeb utters the words of death, "These are pretty..."
PRETTY?! Not that! Pretty as in boring? As in nice try? Ugh! Then it gets worse,
"The only problem is....."
Oh, Crap! No time, not professional enough, too many pretty flowers????
"You need enough to cover both walls!"
Whaaaaaa Hoooo! Zeb said yes!
So I have my first show and lots more pictures to get framed to fill their gynormous walls.
This was a wish I had 2 years ago down to the month that they will be up and now it's happening.
I always want to remember the exhilarating feeling of someone valuing my efforts. In teaching, you never see a finished product or really know the end result of your efforts. It is so nice to complete something that you can look at and admire with your friends. God really steered me in the right direction to brighten up my rough days with the kids I teach. He sure knows just the moment you need a kick in the pants and I am soooo grateful.
June 8th, 2011
Please join my email list for updates and events. If you like any particular photo, feel free to leave a comment or click on the favorite, like, recommend or vote buttons to help me learn what I should do more of.
Find out more about me and check out the Backwoods J custom made frames on my website.

PhotosByJamieJ


Promote Your Page Too

Also visit my Zazzle store to buy iphone and ipad covers with my images on them.
ZazzleByJamieJ
Thanks so much for taking time to be a part of my adventures as an artist!